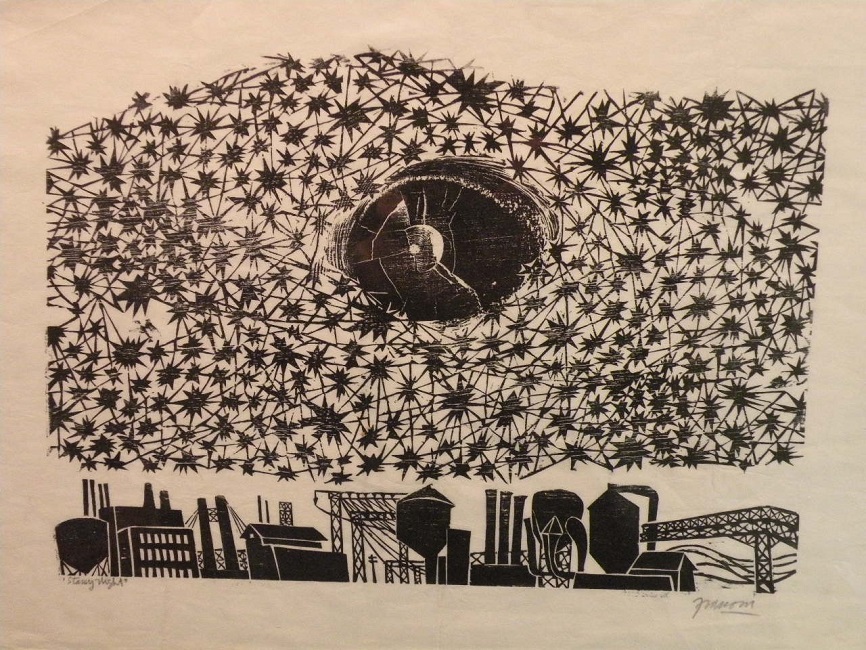 Starry Night by Antonio Frasconi
Antonio Frasconi (1919-2013) Frasconi was born in Uruguay of Italian parents. He was working with a printmaker by age 12 and like many Latin American artists began his career publishing satirical cartoons. Some of this aesthetic is retained in his fine art prints. He moved to New York in 1945 after receiving a scholarship to the Art Students' League. He rapidly became known as a graphic artist and excelled at woodcuts. He illustrated over 100 books in particular a collection of poems of Langston Hughes: Let America be America Again and Pablo Neruda's Bestiary/Bestiario. His most noted work was Los Desaparecidos (The Disappeared) which documented the atrocities of the Uruguagian dictatorship. He died at age 93. His obituary was published in the New York Times and can be found at http://www.nytimes.com/2013/01/22/arts/design/antonio-frasconi-woodcut-master-dies-at-93.html.
Size:
1970-1980s
Price:
$650
Size:
18 x 12 inches
Plate Size:
12 5/8 x 9 inches
Condition:
Excellent
Medium:
Wood Block Print
Subject:
Architecture & Cityscape

Shipping, handling and insurance is included for purchases within the US and Canada. We ship internationally. Please contact us for shipping cost and invoice information.