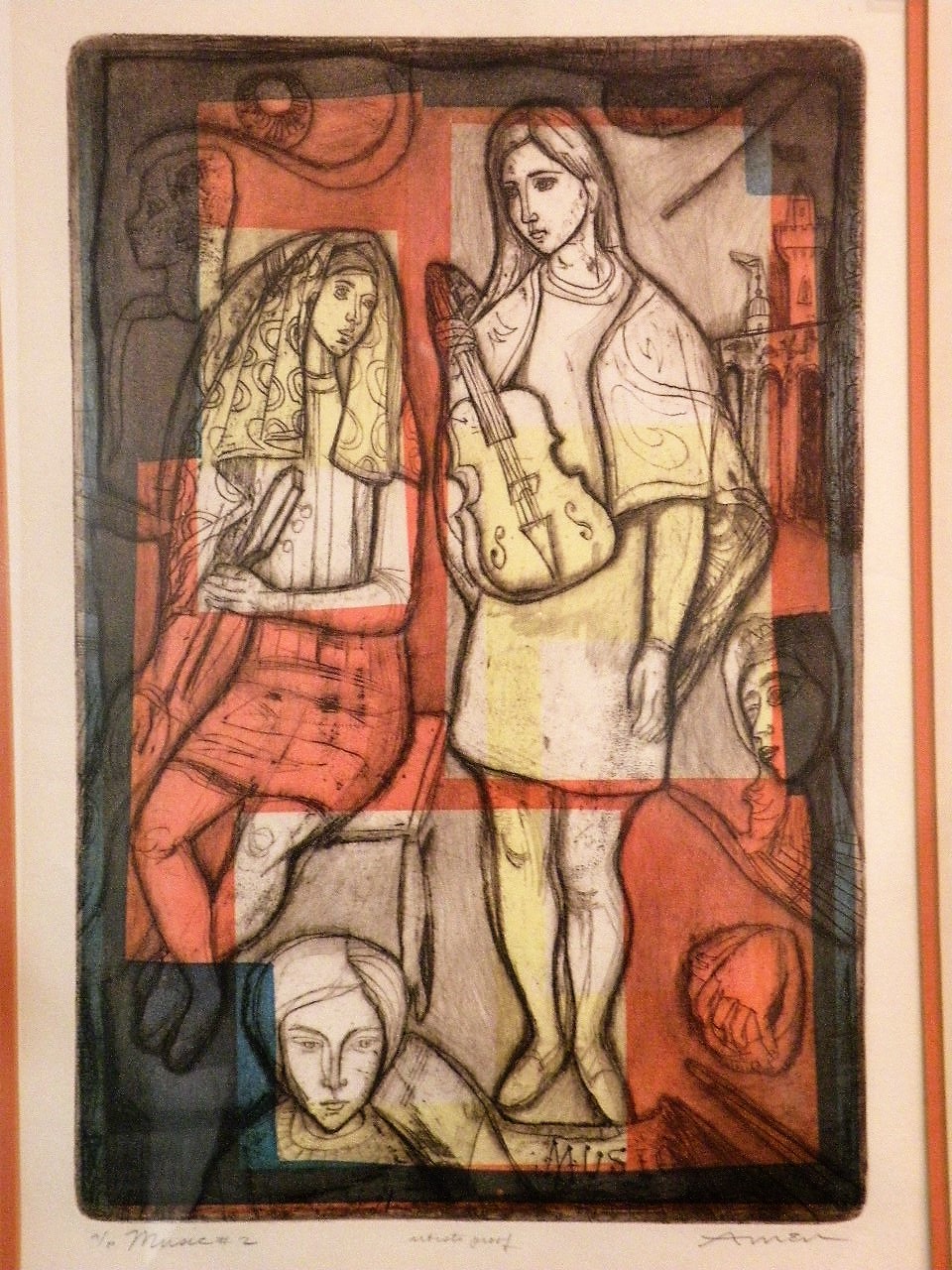 Music $2 by Irving Amen
This is a color aquatint of a group of Renaissance musicians. The two largest figures seem to carrying viols. They are surrounded by other figures. A castle is seen in the back right of the image. It is a typical Amen work from this time period. The figures are softly rendered and surrounded by large blocks of red framed by blue. This is an artists proof. It is not archivally framed or matted. It is in a period orange frame.
Artist Bio:
Irving Amen (b. 1918 d. 2011): A fine twentieth century sculptor, painter, etcher, lithographer, silk-screen and woodcut artist, Irving Amen studied at the Art Students League in New York and at the Academy Grande Chaumiere in Paris. Throughout his career he traveled extensively, particularly in Europe, Russia and Central America. Besides practicing his art, Amen also taught classes in sculpting and printmaking at such influential schools as the Pratt Institute (1961) and at Notre Dame University (1962). His art has been exhibited with the Society of American Graphic Artists, the Library of Congress and at the National Academy of Design. In 1949 the Smithsonian Institution also launched a one man exhibition of his work. His art is now included in the permanent collections of the Museum of Modern Art, New York, the Bibliotheque Royale, Brussels, the Victoria and Albert Museum, London, and the Bibliotheque Nationale, Paris.
His original prints are among his most highly regarded works of art and he has shown great talent in the techniques of the woodcut, lithography, serigraphy and etching. In these fields he is a constant and challenging innovator. Within all his mediums the most recurring themes in his art are music, spirituality and children.
Size:
1960s
Price:
$525
Framed Size:
25 x 21 inches
Plate Size:
17.75 x 11.75 inches
Condition:
Excellent
Medium:
Aquatint Etching
Subject:
Figures & Portraits

Shipping, handling and insurance is included for purchases within the US and Canada. We ship internationally. Please contact us for shipping cost and invoice information.